Photo credit: Modest Cellar
Cozy One-Pan Oven-Roasted Chicken Recipe
Take a break from your work week and appreciate the transition of the seasons with a one-pan chicken dinner recipe. Featuring apples, sweet potatoes, brussels sprouts and bacon, this simple recipe screams fall and comes together in a cast iron skillet or baking dish. Find wine recommendations from Bordeaux and Germany that are sure to help you unwind after a long day of work. When served together, this autumnal recipe and wine pairing is sure to be a crowd pleaser.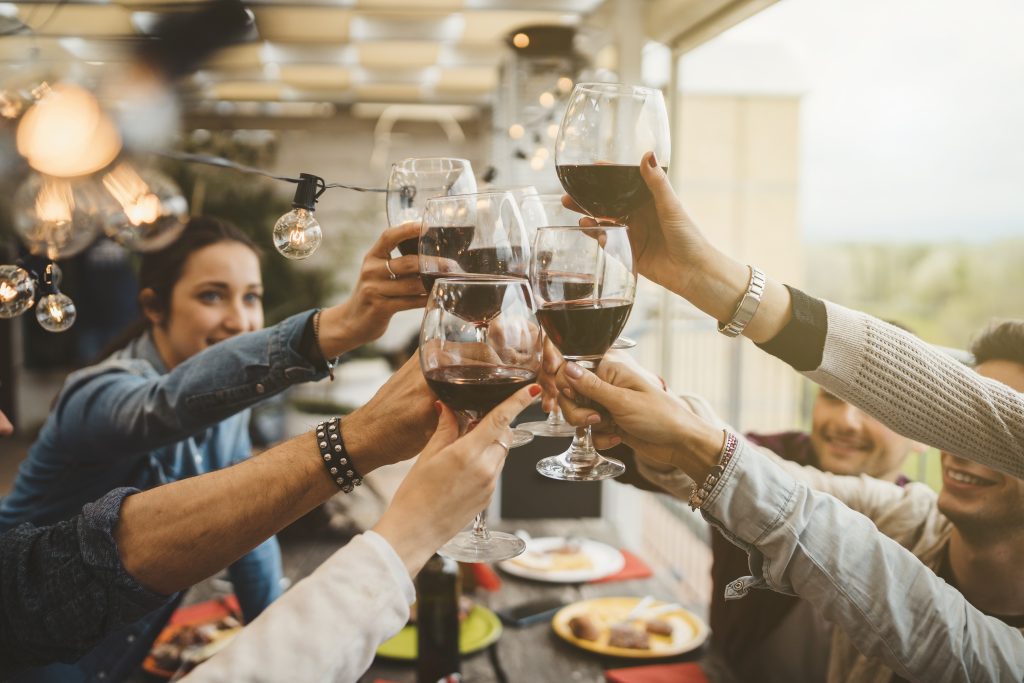 Photo Credit: lorenzoantonucci via iStock
Ingredients:
Whole chicken

1 sweet potato

1 Honeycrisp apple

2 shallots

Brussels sprouts (approx ½ lb)

6 slices of bacon

4 tablespoons avocado oil

1 tablespoon red wine vinegar

1 tablespoon minced fresh poultry herbs (rosemary, thyme, oregano, etc)

1 tablespoon garlic powder

Salt

Coarsely ground black pepper
Directions:
Preheat the oven to 400 degrees.

Chop sweet potato and shallots into one-inch cubes, Honeycrisp apple into two-inch cubes, and brussels sprouts in halves.

Place all vegetables into a baking dish or cast iron skillet with bacon and two tablespoons of avocado oil. Add salt and coarsely ground black pepper and mix well.

Butterfly the chicken and place on top of vegetable mixture in the baking dish.

In a separate bowl, add two tablespoons of avocado oil, one tablespoon of red wine vinegar, one tablespoon of garlic powder, salt, coarsely ground black pepper, and one tablespoon of minced poultry herbs. Mix well and baste chicken.

Place the baking dish in the oven and bake until the chicken reaches an internal temperature of 165 degrees (typically one hour), stirring the vegetables after 30 minutes.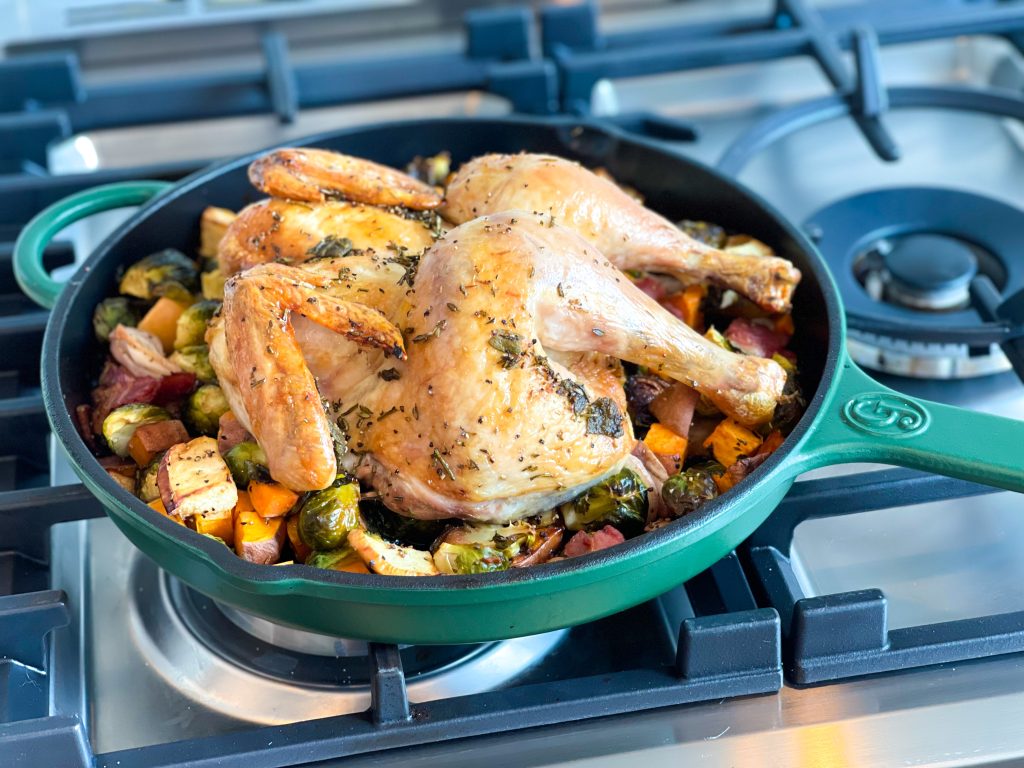 Photo Credit: The Modest Cellar
Pair With a Bordeaux Blanc
Château Haut-Rian Blanc is a Bordeaux white blend of Sauvignon Blanc and Semillon with refreshing aromas of white flowers and lemon. This dry, crisp wine is filled with fruity notes and  a lively acidity that  complements the delicate herbal notes as well as the rich flavors of the chicken and vegetables. 
Find a bottle of Chateau Haut Rian Blanc at Wine.com or your local retail shop.
Pair With a German Riesling
From the Rheingau region of Germany, Eva Fricke Riesling Trocken is a dry, fruit forward wine with layered flavors of apple and peach that work as an excellent foil to the savory chicken while bringing out the sweetness of the Honeycrisp apple. The wine features a clean and crisp acidity with a long and refreshing finish; it's the perfect fall sip!
Find a bottle of Eva Fricke Rheingau Riesling Trocken at Wine.com or your local retail shop.
Photo Credit: The Modest Cellar
Check out more recipes and wine pairings from The Modest Cellar. Thirsty for more? Follow Clink Different's Instagram and Facebook to stay up-to-date on the latest blogs and upcoming events.