Photo Credit: German Wine Institute
Like Mimosas? Try a Blueberry Mint Spritz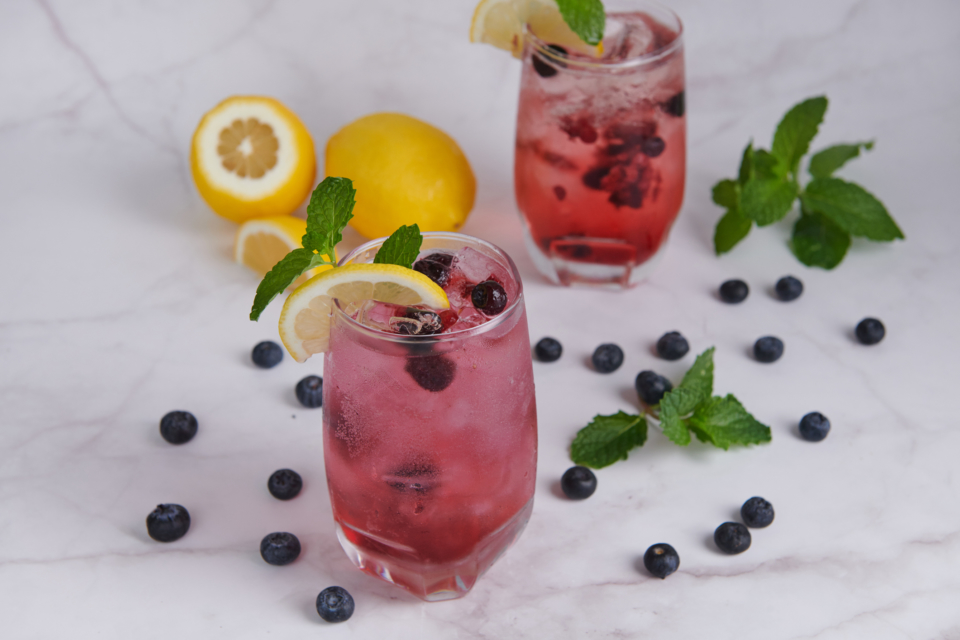 Photo Credit: sutlafk via iStock
Equal parts fruity and fizzy, mimosas are a tried-and-true option for early gamedays. Take your tailgate to the next level with a refreshing Blueberry Mint Spritz made with Crémant de Bordeaux. Perfect for the hot weather, this simple cocktail packs a lively punch of flavor as the blueberries and mint compliment the bubbles. Crémant de Bordeaux is made using a traditional fermentation process similar to Champagne, with all grapes picked by hand and aged for a minimum of twelve months.
Ingredients:
24 bags of mint tea
Fresh mint
Fresh blueberries
8 oz honey
Lemon juice
A bottle of your favorite Crémant de Bordeaux
Directions: 
Steep 24 bags of high-quality mint tea for 20 minutes in 96 oz of hot water.
Remove tea bags and add 6 oz of honey and stir to dissolve. Set aside to cool.
Muddle a few blueberries and a few sprigs of mint in a glass
Combine 1.5 oz of mint tea infusion, one tablespoon of lemon juice, and 3 oz of Crémant de Bordeaux
Fill glass with ice and gently stir
Garnish with mint and serve immediately
Prefer a Pale Ale? Try German Pinot Noir

Photo Credit: German Wine Institute
Put down the pale ale and pick up a chilled bottle of Spätburgunder (German Pinot Noir) for your next Sunday Night Football celebration. Brimming with fruit-forward flavors, German Pinot Noir is a balanced, not-too-bitter replacement for typical brews that pairs just as nicely with stadium staples like bratwurst.  As Germany's 3rd most widely planted grape variety, a slightly-chilled Spätburgunder is sure to quench your gameday thirst all season long.
Sweet on Spiked Seltzers? Try a Grapefruit Fizz

Photo Credit: bhofack2 via iStock
If you gravitate towards seltzers, go for a Grapefruit Fizz made with a Bordeaux Blanc instead. The carbonation of the sparkling water meets the needs for the fizz in a spiked seltzer while the fruity and floral dry white wine from Bordeaux features notes of lemon and peach that complement the splash of fresh grapefruit juice. Traditionally a blend of Sauvignon Blanc, Sémillon, and Muscadelle, Bordeaux Blanc provides the perfect base for a homemade halftime beverage.
Ingredients:
3 oz dry white Bordeaux
1 oz fresh grapefruit juice
½ oz of rosemary simple syrup
1 oz sparkling water
Directions:
Add all ingredients over ice and stir
Garnish with grapefruit twist
Designated Driver? Try Non-Alcoholic German Riesling

Photo Credit: German Wine Institute
If you opt for a booze-free game day, a non-alcoholic German Riesling is the drink for you. The fresh and juicy feel of the wine features all the delicious flavors of Riesling without the alcohol. With notes of crisp apples and a lasting freshness, non-alcoholic German Riesling is a great alternative to soda or seltzer water. Germany is leading the no and low-alcohol wine movement, with nearly 100 German producers making high-quality, non-alcoholic wine utilizing technology that maintains both the flavor and integrity of the wine.
Find a bottle of German or Bordeaux wine at Wine.com or your local retail shop.
Thirsty for more? Follow Clink Different's Instagram and Facebook to stay up-to-date on the latest blogs and upcoming events.