Photo credits: Favoreat / Vincent Pflieger
No matter how and where you buy wine, it's not always easy to find what you're looking for. Of course, it helps to know what you're looking for. Sometimes you find yourself staring at the wine list, but nothing is jumping out at you. Or perhaps you're walking the aisles of your favorite wine shop, but you just can't make up your mind.  Worse still, you enjoyed a glass of something delicious with a friend recently, but you can't remember what it was. (Pro Tip: Always take a picture of a bottle you're enjoying with your phone!). The opposite scenario, of course, is that you know the wine you're looking for, but when you search online it's not available in a store near you—and you don't want to pay extra to have it shipped. These are universal frustrations for many wine lovers, which is why building a relationship with a local retailer is so important. Why? Because a good retailer will not only help you understand the classification level of the German label you're looking at, or which type of Bordeaux you're searching for, but—because you have a relationship—they might also search for it beyond their store. And, if they can't find it for you, they will absolutely offer you suggestions for suitable substitutions. 
Another perk that you likely won't get at one of those large, chain stores is the courtesy of a retailer who will suggest a better value if there's something less expensive that tastes just as good. Simply put, there's no better resource than a great, personable wine shop to discover all the wines from Bordeaux and Germany you've been missing. Still, what makes a great wine shop stand out among its competitors? For starters, staff members who step out from behind the counter to show you around. This could lead to a conversation about your likes, dislikes, desired price range, potential food pairings… the possibilities are endless. But it all hinges upon human interaction. This can also happen by phone if you call a retailer and ask to speak to someone who can give you some recommendations. Ultimately, the goal is to be able to go to a shop or call a shop and ask for someone who remembers your tastes and budget and is happy to make recommendations—especially ones that might save you some money, too. 
When it comes to discovering delicious values, and by values we don't always mean inexpensive wines as much as we mean fairly priced, given their pedigree. To find these you need to venture beyond the beaten path, and this is where your local retailer can steer you. We've scoured the country in search of amazing wines from Germany and Bordeaux. While Germany is well known for their whites and Bordeaux for their reds, let your retailer think different and also clink different with fab German reds and Bordeaux whites, as well as sparkling wines and rosés from both places.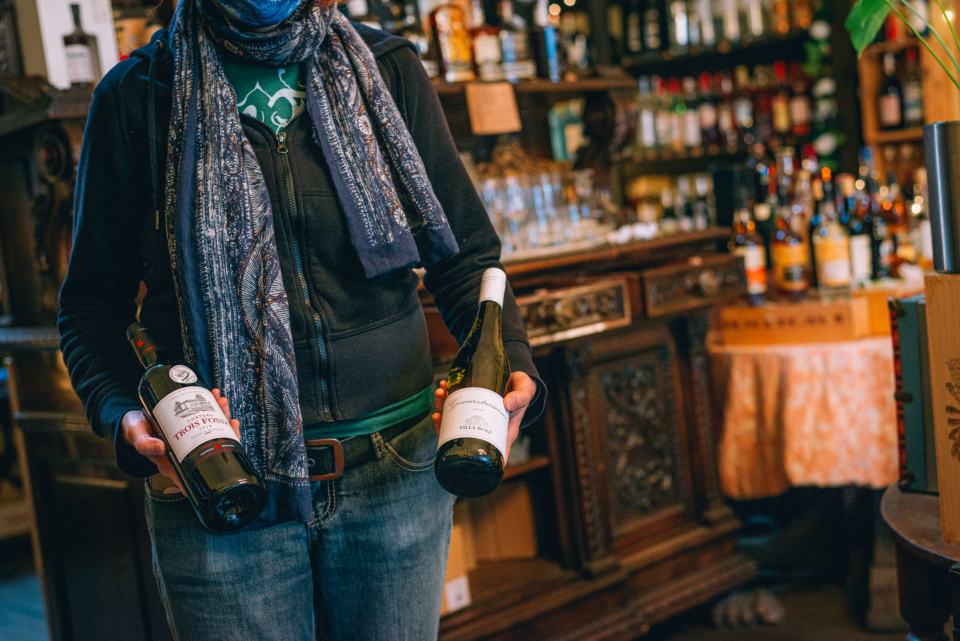 Photo credits: Favoreat / Vincent Pflieger
ATLANTA
Perrine's Wine Shop on the West Side, and Perrine's "Le Pop Up" in Buckhead, feature nearly 700 different labels wines focusing on family-owned wineries who practice sustainable, organic, biodynamic practices. For pure refreshment, check out the 2020 Comtesse De Malet Roquefort Bordeaux Blanc ($18), and a fabulous orange/rosé Pinot Gris (with extended skin contact) from Germany, the 2020 Enderle & Moll 'Grauburgunder' Baden, Germany ($30). perrineswine.com. Sherlock's and Sherlock's Wine Merchant have been serving Metro Atlanta's wine, liquor or spirits, beer & cigars clientele since 1986, with stores at Marietta East Cobb and Kennesaw Town Center. For your next spicy meal (Pro Tip: to pair wine with food with heat, drink slightly sweet!), grab an off-dry 2015 C.H. Berres Riesling ($20). Your grilled steaks, however, will love a classic Bordeaux rouge, like 2015 Château Peybaron Haut Medoc ($25), boasting 51% Merlot along with Cabernets Franc and Sauvignon. buckheadwineshop.com 
CHARLESTON, SOUTH CAROLINA
You can find nearly 50 Rieslings from Germany at Wine Exchange, but a standout value is 2020 Max Ferd. Richter Riesling Kabinett Wehlener Sonnenuhr ($20) from 80-year-old vines(!), or double down with a Peter Lauer Riesling Mosel Kern #9 2020 ($40), alongside a cool-climate Pinot Noir from the Pfalz, Anselmann Spätburgunder Trocken 2014 for half-price ($15). Also, a still-very-juicy Bordeaux rouge from 2010(!) from Château de Belcier Côtes de Castillon ($17).winex.com.
At Wine & Company, a super-chill wine bar and retail outlet, check out the curated selection or all sorts of Bordeaux, including a sparkling Calvet Cremant de Bordeaux Brut ($25); two textbook reds, Château Bellevue Peycharneau Bordeaux Supérior ($25) and Château Saint-André Corbin Saint Georges-Saint-Émilion ($30); and a great Sauternes by Château Laribotte ($25). Stock up on cheese & charcuterie while you're there, too. chswine.com 
MIAMI
In the burgeoning MiMo district, head to Vinonueva Fine Wines, a specialty shop that's well curated with over a dozen German selections, including a mouthwatering 2020 Gunderloch Riesling Kabinett 'Jean Baptiste,' Rheinhessen ($22), as well as over 50 Bordeaux bottles, including this classic bordeaux supérieur cru monplaisir 2019 gonet medeville ($24), a blend of Merlot, Cabernet Sauvignon and Cabernet Franc. vinonueva.com 
KISSIMMEE, FLORIDA
At Vintage Vino, a cozy bar and retail store specializing in wine, cheese & craft beers, you can order a flight (of three glasses) or three full bottles of benchmark Rieslings: Loosen Bros Dr. L Riesling, Mosel, Germany ($29); Mönchhof Estate Riesling, Mosel, Germany ($34); Dr. Loosen Blue Slate Riesling Kabinett, Mosel, Germany ($39). vintagevino.com 
PALM BEACH, FLORIDA
The Virginia Philip Wine Shop & Academy opened in November 2011 by internationally renowned Master Sommelier Virginia Philip (voted "Best Sommelier in the United States" by the American Sommelier Association) in the heart of Palm Beach. Featuring over 850 personally selected offerings spanning regions all over the globe, the shop gives guests access to Philip's extensive and encompassing experience. There are dozens of Bordeaux here, including a Sauvignon Blanc-driven 2019 Le G De Chateau Guiraud Bordeaux Blanc ($26); and a wonderful 2010 Bordeaux rouge from Château Cantemerle 'Les Allées De Cantemerle' Haut Medoc ($45). From Germany, a gorgeous 2017 Selbach-Oster Riesling Kabinett Halbtrocken Mosel Zeltinger Himmelreich ($25). virginiaphilipwineandspirits.com
PORTLAND, OREGON
While most wines at Liner & Elsen Wine Merchants are local Oregon wines, they have several gems from Germany and Bordeaux, including this yummy 2019 Hexamer Riesling 'Quarzit,' Nahe ($18), and a fabulous Spätburgunder 2019 Enderle & Moll Baden Pinot Noir 'Liaison' ($36); and a juicy 2018 Château de Chantegrive Graves Blanc ($28), and, according to their website, and "outrageously delicious summer staple" crisp Rosé wine with a touch of spritz, J.P. Xiradakis et Famille Ducourt 'Rosé Lime' Vin Aromatisee Bordeaux ($15) to be served well chilled. linerandelsen.com 
PACIFICA, CALIFORNIA
Table Wine Merchant is an affordable quality wine and beer shop with a down-to-earth vibe with several great selections from Bordeaux and Germany, including a classic Sauvignon Blanc + Semillon blend 2018 Chateau La Rose du Pin Entre-Deux-Mers ($13) and a Cabernet Sauvignon lover's 2018 Château Frank Phelan Segur Saint Estephe Bordeaux ($47); as well as a gorgeous sparkling Rosé of Pinot Noir Sektkellerei Ohlig Weiss 'Latitude 50' Sekt Brut Rheingau ($21), and a fabulous Pinot Noir in full red style, 2017 Ziereisen Blauer Spätburgunder ($23). tablewinemerchant.com 
SAN DIEGO
The WineSellar & Brasserie may be French in name—and rightly features great French wine, like a mouthwatering 2016 Château de Lagarde 'Cuvée Prestige' Saint Macaire Blanc Bordeaux ($25), a certified organic 50/50 blend of Sauvignon Blanc and Semillon, but they also feature German wines, like this lovely white 2018 Johannishof Charta Riesling Rheingau ($28). winesellar.com