No matter where you live here in the U.S., whether in the balmy southeast, the chilly northwest, or anywhere in between, the promise of Spring and Summer bring with them the lightening of just about everything, from clothing to cooking, walking to touring, travelling, or just relaxing — much of it outdoors. The season of festivals is here, enticing us to spend a week in the mountains listening to music, or at the seashore enjoying seafood, or in historical settings that celebrate the local splendor. No matter where in the country they pop up, festivals offer us an opportunity to explore new and interesting music or arts, discover upcoming performers or artists, the opportunity to see established legends in their oeuvre, and, ultimately, to enjoy local foods, wines and beers to fuel all of that fun. Thankfully, as pandemic restrictions lighten, too, there are festivals planned just about everywhere, and Clink Different is hitting the road to attend as many as we can between now and first frost.
Given our mission, which is a collective effort between the Conseil Interprofessionnel du Vin de Bordeaux (CIVB, Bordeaux Wine Council) and the Deutsches Weininstitut (DWI, German Wine Institute) to increase awareness and enjoyment of European wines, and more specifically, of wines with a protected designation of origin (PDO) produced in the region of Bordeaux, France, and throughout Germany, we can't wait to get out there live, and in person, to spread the delicious news about our wines.
Perhaps you're thinking, Bordeaux and Germany? You would not be incorrect to think that these two regions seem vastly different from each other, but you'd be amazed to discover how many qualities they share! First, let's talk about what is already well known: that Germany is synonymous with amazing white wines, and that Bordeaux is famous for its world-class red wines. Where things get far more interesting is when we pour you a glass of amazing red wine from Germany, or a spectacular white wine from Bordeaux. Impressed now? Wait—how about a glass of sparkling wine, from both places?
Culturally, both Germany and Bordeaux possess deep viticultural histories that showcase their centuries of tradition, but in the face of American winemaking dynamism, this history can appear at first glance a bit heavy. But here's the amazing part—they are not stuck in the past; knowledge and know-how are passed down to ever-newer generations. Ultimately, food is at the heart of European culture, from seasonal markets and urban street fare, or food trucks to family dinners and Michelin-starred restaurants—and no meal is complete without a glass of wine.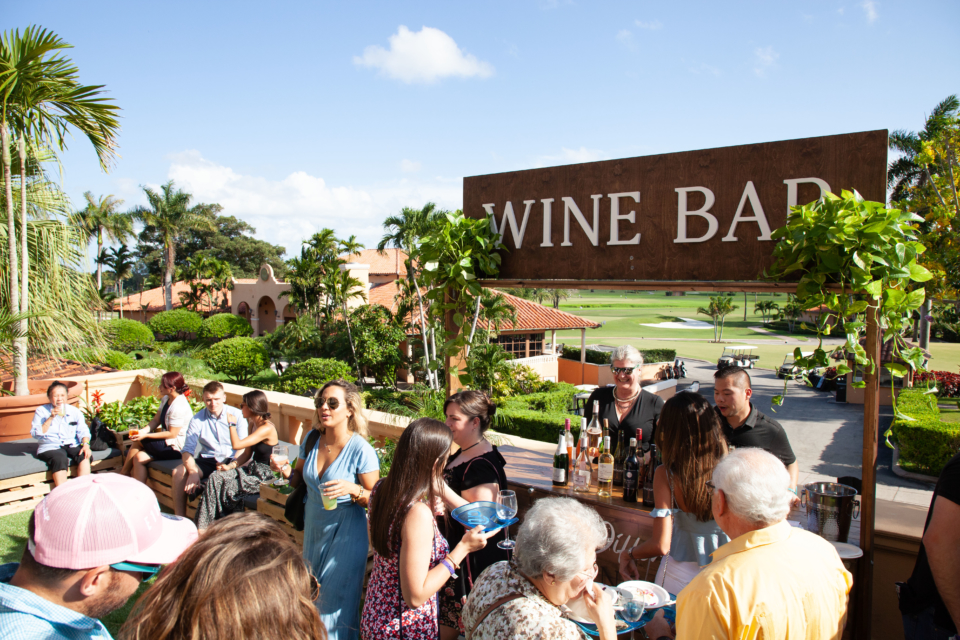 Photo credits: Sopexa
That's why we're headed to a festival (hopefully) near you, to show you where Germany, Bordeaux and the U.S. intersect beautifully: where wine, food, music, and art converge.
Our first stop is Heritage Fire, April 24th, 2022, in Atlanta, Georgia. Presented by Cochon555, Heritage Fire is a premiere, whole-animal, nation-wide food and wine tour, celebrating heritage breed livestock and heirloom produce. The daytime feast offers an endless array of sustainably sourced food from the region's top family farms and local purveyors, prepared by some of the region's best chefs. Both educational and inspirational, messages are circulated among its 10,000 guests; 250-plus chefs; 150-plus family farms and numerous culinary schools each year. Heritage Fire guests will vote for 'Best Bite of the Day,' and the winner will be crowned Heritage Hero. This show moves around to other cities, too.
Next stop is SunFest, April 28-May 1, 2022, in Downtown West Palm Beach, Florida. Founded in 1982, SunFest is Florida's largest waterfront music and art festival. Held annually the first week in May since 1982, SunFest has grown over 40 years to become Florida's largest music, art and waterfront festival, attracting over 100,000 guests to the area. Musical headliners include the Goo Goo Dolls, Sam Hunt, Counting Crows, Melissa Ethridge, Boyz to Men, SOJA, and Lil Wayne—to name only a few.
Next up is The Waterfront Blues Festival, July 1-4, 2022, in Portland, Oregon. This festival is downtown Portland's largest and longest-running music festival, and one of the most renowned celebrations of the Blues in the world. This year, in fact, marks the 35th anniversary of the festival and a jubilant return to downtown Portland. Founded in 1988, the festival has welcomed over 2,000 acts, including Gregg Allman, Buddy Guy, Lucinda Williams, Gary Clark Jr., Robert Plant, Mavis Staples, and Trombone Shorty, garnering international acclaim, and raising over $10 million dollars to fight hunger. The festival is also an unparalleled showcase for Portland's local music community and features local legends, like Curtis Salgado, Liv Warfield and Norman Sylvester. And it's also the most exciting assemblance of dynamic blues, soul, funk and R&B artists on one stage for a magical, can't miss Fourth of July Weekend.
Heading into high Summer is Heritage Napa Valley, August 21st, 2022, at Charles Krug Winery, in Napa Valley's Saint Helena. Presented by Cochon555, Heritage Fire is a four-hour event focused on education and delivering moments of culinary awakening. A stand-up reception, all-inclusive bacchanal feast featuring thoughtful bites prepared by the most critically acclaimed kitchens in each market paired or sourced with products from local farms and sponsors.
Photo credits: Sopexa
At each of these festivals (and we'll keep updating additional ones at which we'll be participating throughout the season), please come visit us at a Clink Different booth where we'll be sharing tastes and talks about the most amazing wines you already know, or never imagined, from Bordeaux and Germany. We look forward to welcoming you!