In the mood for fish
Not many people realise that Bordeaux is located right by the Atlantic Ocean. During summer many Bordelese flock to Arcachon, an adorable coastal town where they enjoy lush weekends by the sea eating oysters and drinking delicious wines from the region. The go-to option are refreshing, dry white wines and both Entre-Deux Mers or Pessac Léognan are natural choices. Both are harvested in a part of Bordeaux that is rich in limestone soil which makes for a lovely oceanic minerality in the wine – an ideal complement to fish and seafood.
But it doesn't always have to be white wine. Love grilled salmon? Try pairing it with a German Pinot Noir (Spätburgunder) and surprise your tastebuds with how well the two go together. Its light tannins make for a perfect match.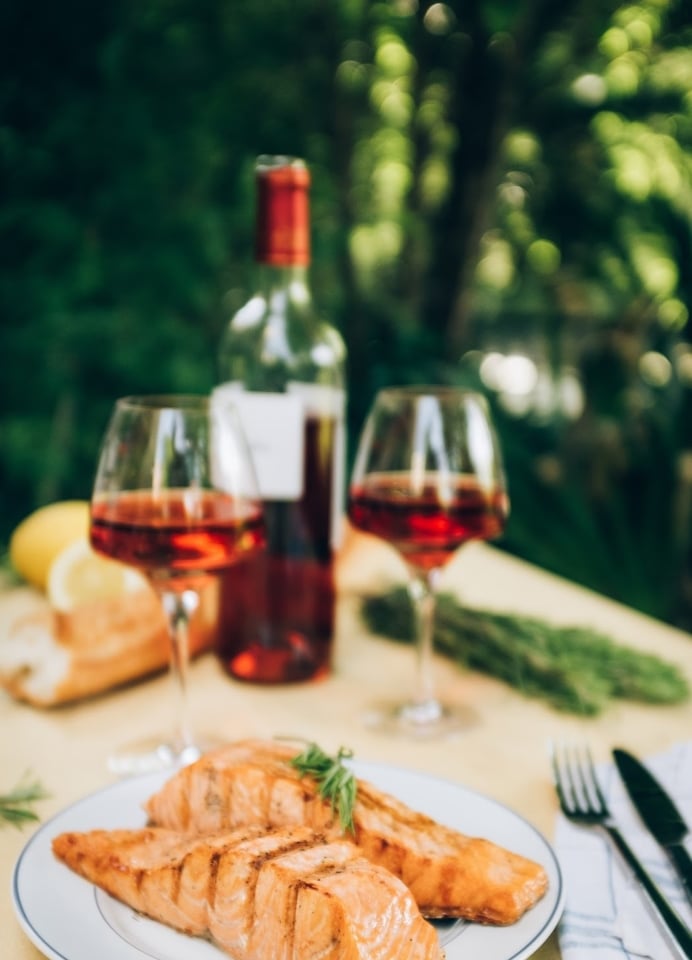 ©Favoreat / M. Anglada

The veggie choice
Do you love experimental salads? Try having your arugula with some grilled peach slices or dice up some watermelon and mix it with feta cheese and mint leaves – those refreshing fruit and green leaf combinations are delicious and yet somewhat adventurous on the palate. An ideal accompaniment is a  Bordeaux Rosé. Its fresh, light decadence goes down perfectly with the crisp, fresh flavors of a salad.
Love all things veggie? What about some lovely white asparagus with bechamel sauce? The German favorite pairs extremely well with a glass of Silvaner, an uncomplicated, herbaceous wine with discreet aromas and fine acidity. 
Just fancy something to Netflix and snack? How about some crackers and vegan dips such as beetroot hummus, basil pesto or guacamole? A fruity and vivacious Bordeaux white wine will be your perfect partner in this matter. Store-bought or home-made, these simple joys can go a long way.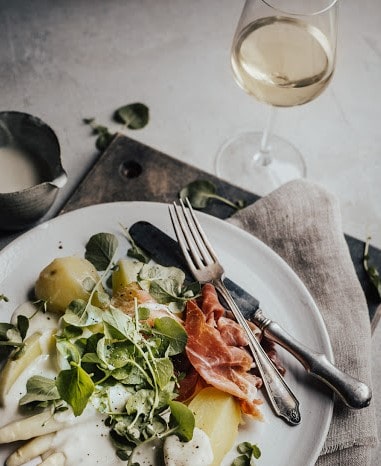 © Favoreat/Chloé Crane-Leroux
Food from around the world
Do you know your Laksa from your Tom Yum? Do you delight in the pierogis, Masala Dosas and paellas of this world? If you like to send your taste buds traveling, we have just the wine for you. Try a German Pinot Blanc (Weissburgunder) with your sweet and sour Chicken or a nutty Shrimp Pad Thai. Its fresh acidity and delicate fruitiness makes it an ideal partner in this pairing.
Love spicy flavors? Turn to the rich and intense red wines of the Médoc area which can handle flavorful foods. Opt for Szechuan beef and turn up the heat on your dish, these bold reds will be right there to balance things out with candied notes adding a bit of sweetness to the spice. Hot!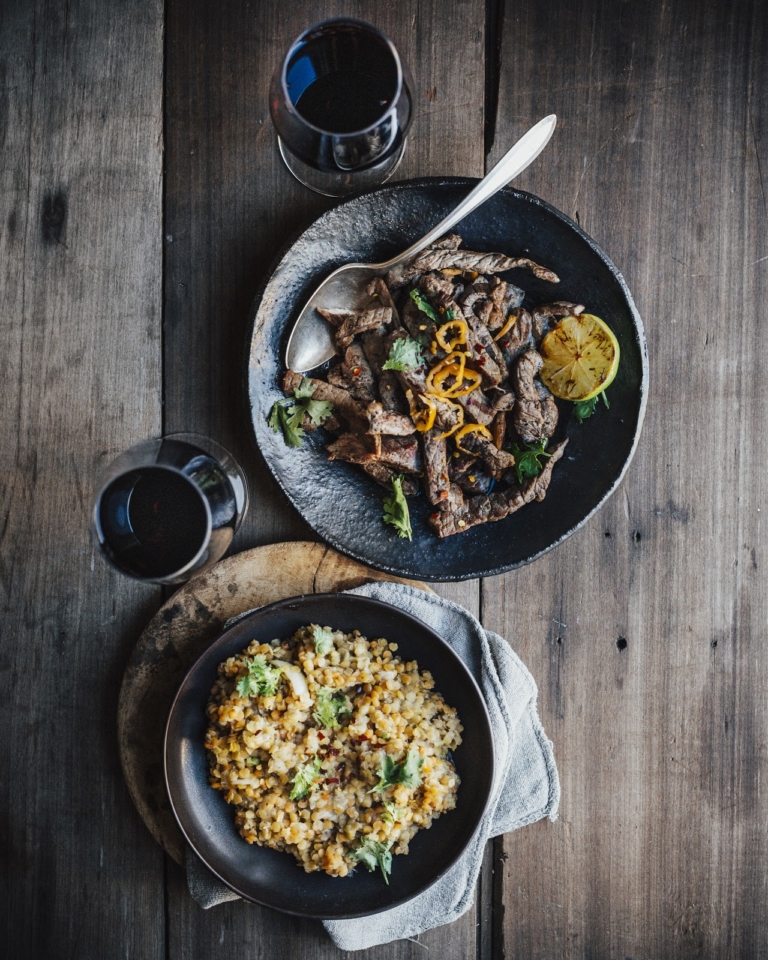 © Favoreat/Chloé Crane-Leroux

Comfort food
It's been a long day, you're starving and there is only one thing on your mind: a delicious, red meat burger. Potentially the ultimate dish to enjoy with a supple and fruity Bordeaux red wine. Its tannins harmonize perfectly with the rich flavors of a juicy and savory burger and in combination have the power to form a perfect end to your day.
In the mood for fried chicken? Go for a Riesling Sekt. This lightly sparkling selection pairs extremely well with fried and battered dishes. These dry white wines typically come with a pronounced acidity and minerality, while still maintaining a hint of fruitiness on the palate.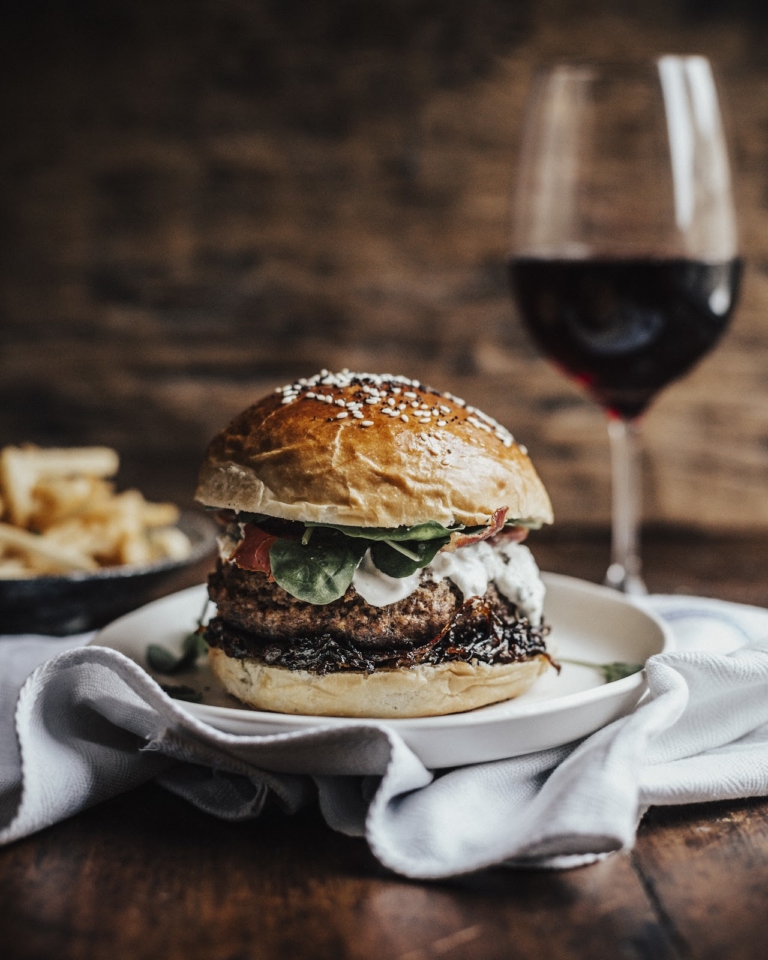 © Favoreat/Chloé Crane-Leroux
Divine Dessert
Late Harvest German Riesling is a match made in heaven for fruity desserts such as baked apples or fruit pies. Spätlese and Auslese styles are world famous for luscious honey and stone fruit flavors balanced by a tangy, electric acidity. A rich dish like peach crumble baked with cinnamon, nutmeg, and a little lemon will complement this wine wonderfully.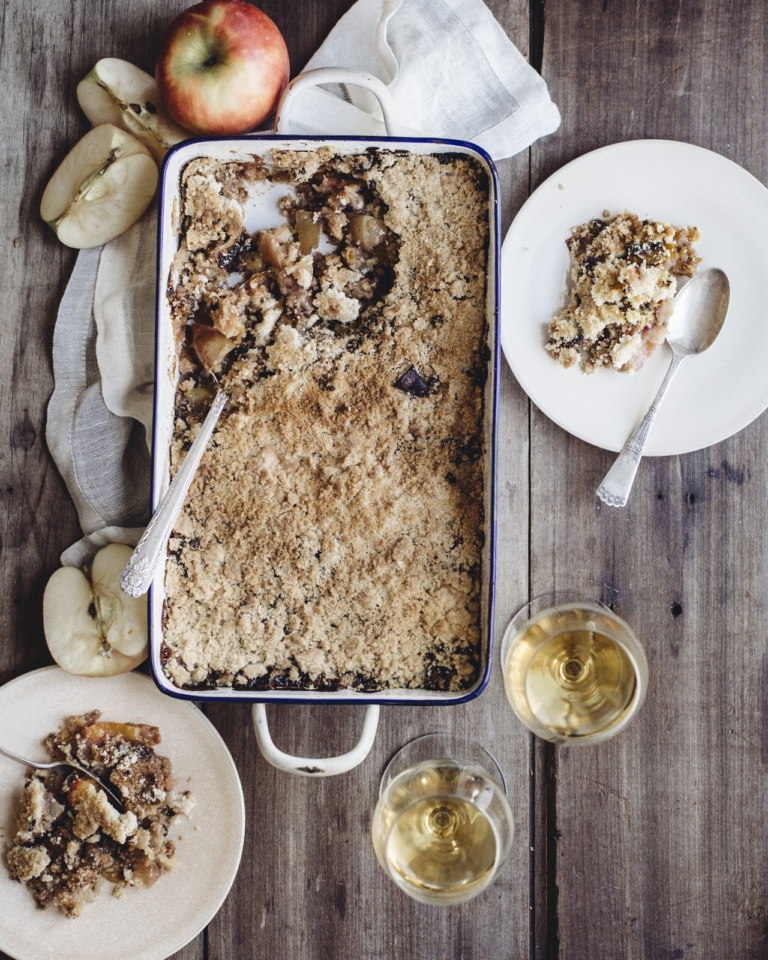 © Favoreat/Chloé Crane-Leroux
Love chocolate mousse? Crême Brulée? Tiramisou? When in doubt, always trust Crémant de Bordeaux to be your perfect partner in sweetness. The effervescence in these dry white or rosé sparkling wines doesn't overpower the sugar content in desserts and adds a festive element to your last course treat.
Sweet tooth
Contrary to popular belief, sweet wines are not just a treat to be enjoyed for dessert. They also make a fantastic pairing with exotic dishes, sushi, foie gras, and cheese. Even that fried chicken could be a winning combo! That said you will not regret ordering a glass of Sauternes with your ice-cream, fresh fruit or your sorbet. If you're thinking about skipping dessert all together, a lovely dessert wine from Bordeaux just might hit the spot without weighing too heavy in your stomach.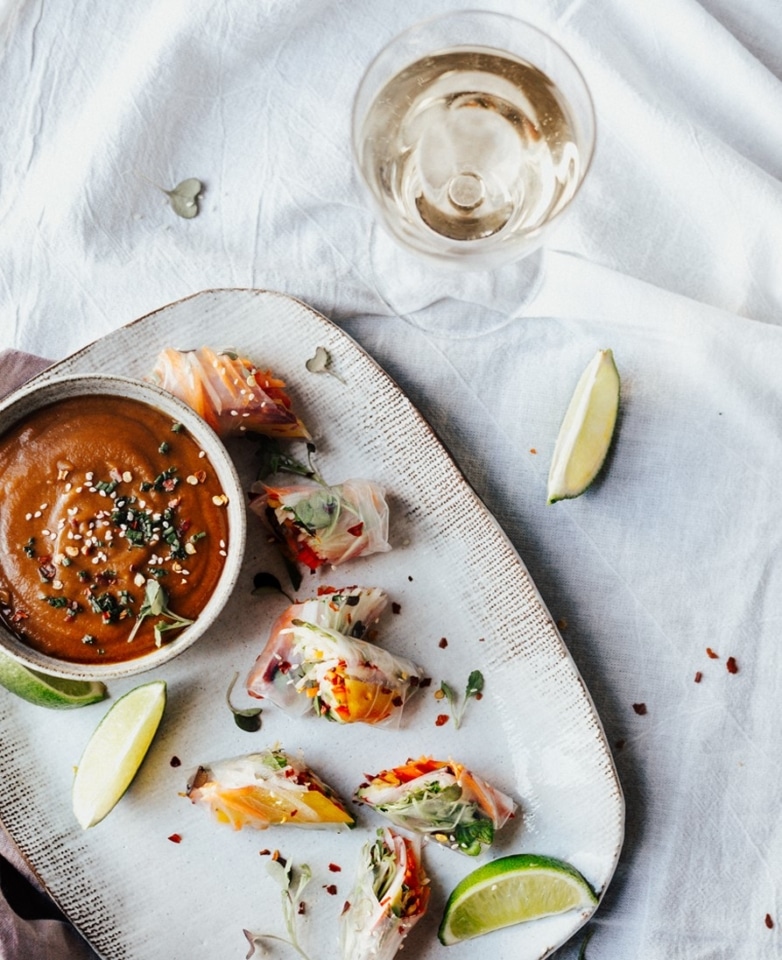 © Favoreat/Chloé Crane-Leroux