© Favoreat/Katja Hentschel
1 At Cabane dans les vignes
Can you think of a more romantic scene than sipping on a glass of Crémant de Bordeaux while overlooking the sun setting over a gorgeous vineyard valley? Neither can we, which is why we are putting the Cabane dans les Vignes on the pole position of this little listicle. Before it actually came into being the Cabane had long been a special plan by Mathieu Verdier, owner of Château Bessan, a property he grew up on and where he spent many nights of his youth overlooking that same valley during sunset hours. He wanted to share the special atmosphere of the place and single-handedly built the Cabane which now functions as a wine bar from May to October as well as a location for private and special events. A definite star on any bucket list with an undeniable magic to it. 
2 At a wine bar in the city of Bordeaux
Speaking of bucket lists – Bordeaux is one of those cities that is hard not to love. Life happens outside, with friendly locals sharing food and wine in one of the many bars and restaurants all throughout the city. If you're a foodie, you have come to the right place! But also wine bars are having a moment and your are spoilt for choice if you wish to experience one (or all!) of them. To get started we recommend you try Tutiac Wine Bar and work your way from there.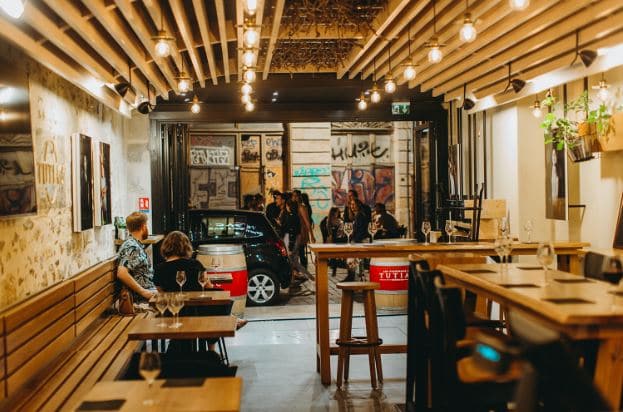 © Favoreat/Katja Hentschel

3 On a terrace in Saint Émilion
Saint Émilion is not just one of the most adorable villages in the whole of France, it is also a UNESCO World Heritage site – two facts that make a trip here well worth it. Add in a couple of terraces overlooking the village and the vineyards around it and you've found a spot that makes for an amazing location to spend a few hours while enjoying some lovely local wines.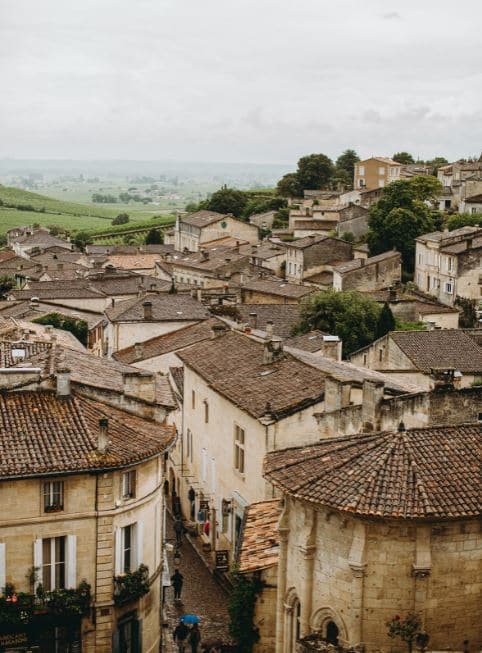 © Favoreat/Katja Hentschel

4 At an oyster bar in Arcachon
There might only be 5 things on the menu here but we can guarantee that all of them are more than fresh and absolutely delicious. Splurge on Oysters and Shrimp, enjoy the Bordeaux wine the owners propose with it and enjoy the views with your feet in the sand. You'll be thanking us later.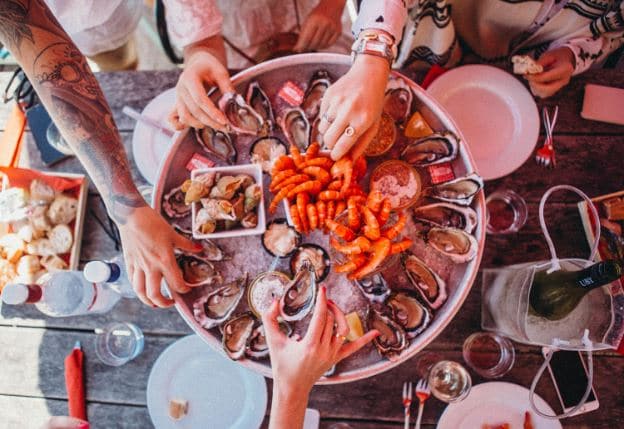 © Favoreat/Katja Hentschel

5 Along the Garonne River
There something about the combination of drinking wine while overlooking a body of water, so it's no surprise that enjoying a glass by the Garonne, the river running through central Bordeaux, is one of those prime addresses for a relaxing glass among friends. There are several great spots but we recommend you start at La Belle Saison, where inviting lounge chairs are spotted across a big lawn, river views included.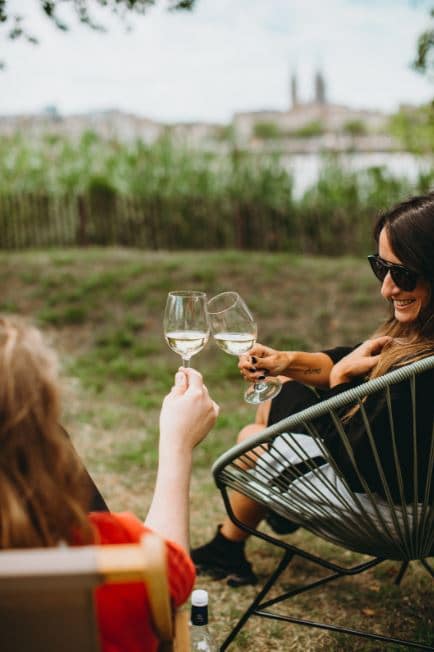 © Favoreat/Katja Hentschel

6 At Lake Constance
Germany truly is a land of lakes, after all there are over 12000 of them. Whether you are picnicking, sun-bathing on the beach or taking a boat out for a spin, lakes are a perfect place to open a nice chilled bottle of wine and enjoy life at its best. One of the most beautiful waterholes in the country is the Bodensee, aka Lake Constance located at the Northern tip of the Alps. Bring your own bottle or check into one of the many restaurants overlooking the lake – most of them will likely be able to dish up a decent selection of wines.

Where there is a metropolis, there is a rooftop bar and Berlin is no exception. Head to the top floor of the Amano Hotel in Berlin Mitte to access a beautiful bar with not only a Class A view over the TV Tower but also a pretty respectable wine selection. We especially recommend you come here during the sunset hour to fully profit from the best part of the day.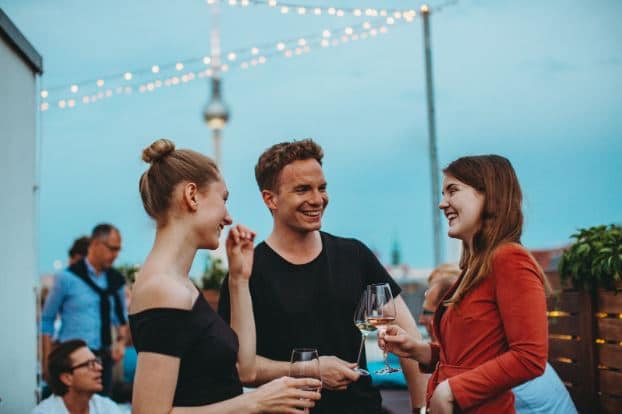 © Favoreat/Katja Hentschel

8 Mainz Market
Market day is nothing unusual in Mainz, but every Saturday the market with a gorgeous setting just next to a thousand year old cathedral becomes into the city's hotspot for a very good reason. Over the past few years it has become fashionable to go to the market, purchase some food and wine and mingle with the crowd. On a sunny day up to 10,000 people gather here to share a glass and a laugh.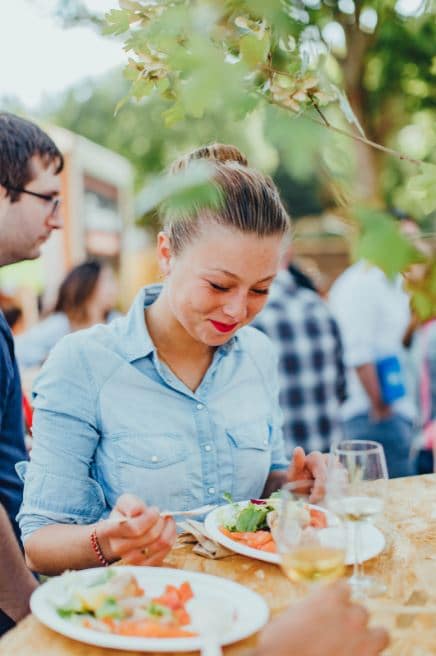 © Favoreat/Katja Hentschel
9 At Dillmann Vineyard
What could be a better place to have wine than the very place it's produced at? Do yourself a favor and pull up a chair at vineyard of your choosing, preferably one with some really great views. One of our favorites is the Dillmann Weingut which comes not only with a hugely popular restaurant, with wonderful food and a lovely warm atmosphere for families, friends and couples alike. When the weather allows for it, there is also plenty of outdoor seating overlooking the beautiful estate.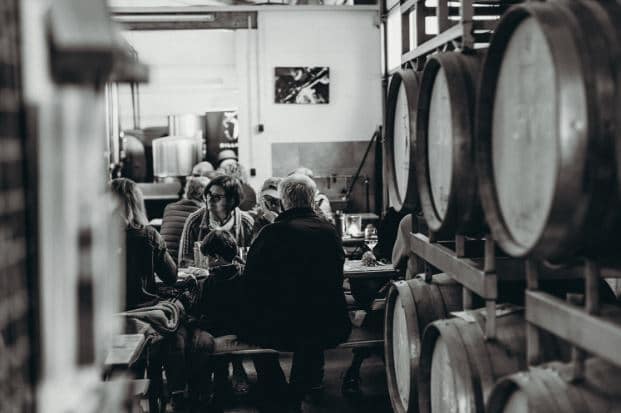 © Favoreat/Katja Hentschel
10 Along the Rhine river
The banks of the river Rhine that runs through the middle of Germany are among the most beautiful river banks in the country. Our favorite spot must be just across from Katz Castle and nearby Lorelei, a steep slate rock, both towering majestically over the stunning landscape. Grab a picnic blanket, some friends and a nice bottle of wine and take in the full beauty of this otherworldly location.