Berlin is home to a wealth of wine bars, both scruffy and chic, suiting all budgets and people from all walks of life. It's a city with a thriving restaurant scene, many of which boast an impressive wine selection. If you're looking for an exquisite wine and dining experience, Berlin will not let you down. Here are some of our favorite places to enjoy a fine glass of wine.

© Favoreat/Katja Hentschel
Definitely a spot for insiders is this popular wine bar in Berlin Mitte. The later the hour, the louder the scene but the extra long bar shaped like an oval is sure to hold space for everyone. Guests can choose from over 4000 bottles of wine all of which were selected with a careful eye by knowledgeable sommeliers Willi and Johannes who now only run the place, they also serve the wine themselves most nights.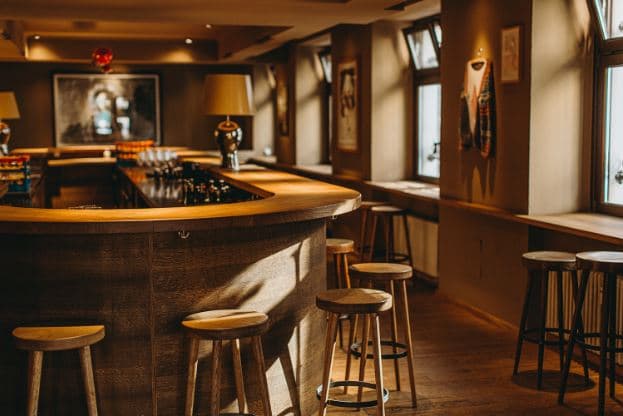 © Favoreat/Katja Hentschel

The old lady among wine bars in Berlin is long established Rutz which doubles as a renowned restaurant and fine dining address for an innovative spin on traditional German cuisine. If you appreciate a classic option, this is the place to go. 
So hip it hurts and yet amazingly classic and timeless is this jewel in the Berlin Restaurant Scene with a great bar and an even better wine selection that draws the crowds every night of the week. Forget the wines by the glass and go for the whole bottle, you won't regret it.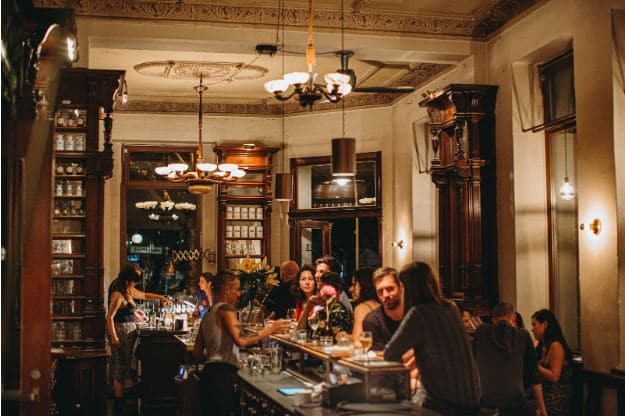 © Favoreat/Katja Hentschel
There is one thing however not even Berlin can dish up: vineyards! Enjoying wine at the very source is one of those great joys in life and there are some truly spectacular places where people get to drink the wine while overlooking the vines it came from.
Unfortunately for Berliners and folks in the North of Germany some travel is involved because most of the country's wine production happens around Frankfurt, in the middle region of the country with cool wine-regions such as Pfalz, Rheinhessen, Baden, Rheingau or Mosel being just a few miles away.
For anyone doing the trip however, a rich reward in the shape of a one-of-a-kind wine drinking experience awaits and these are some of our favorites:
Riesling Lounge, Nierstein/Rheinhessen
Every year, during one weekend in June, thousands of people flock to Nierstein to hike to the top of Roter Hang vineyard and taste the region's wines at their very origin. Once Saturday night rolls around DJ's take to the scene and blasts out electronic tunes while the crowd dances beside the vines, overlooking overlooking the Rhine valley all the way to Frankfurt. Throw in an epic sunset AND sunrise and you'll have an event that will make you smile for years to come.
Erlebnistag Deutsche Weinstraße, Pfalz
Once a year Germany's oldest tourist road, the German Wine Road, is blocked for traffic and only made accessible for hikers and bikers. Tens of thousands of people come out with their families and spend the day picnicking with a glass of wine along the 50-mile long road. They call it the "longest wine festival in the world".
Wurstmarkt Bad Dürkheim, Pfalz
The Bad Dürkheim "Sausage Market" in the Pfalz region is an age old wine festival (it started in 1417!) and today is the biggest wine festival in the world, with more than 600,000 visitors each year. It runs on two weekends in September. Wine is served in 0.5 liter glasses ("Dubbeglas") which are traditionally shared at the table.
Mythos Mosel is an event where during one weekend in June various wine estates along the stunning Mosel river open their doors to wine lovers from all parts of the world. 120 wineries dish up 24 different wines for visitors to try across 30 different host wineries. One ticket grants visitors access to all of these. Coming thirsty is highly recommended! And busses will carry you back and forth.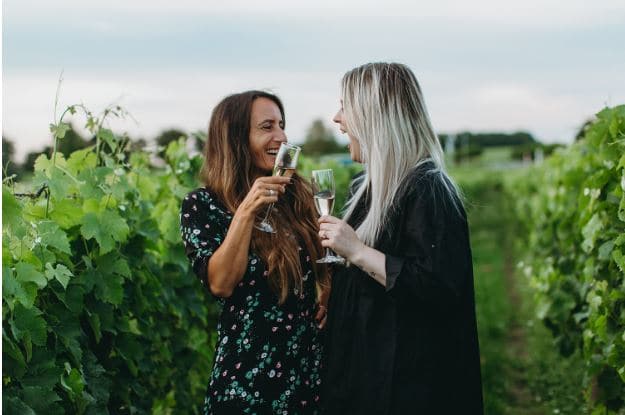 © Favoreat/Katja Hentschel
There clearly is no shortage of options for Germany who are looking to drink a glass or two. The key is: options. And what is in it for you? In case you can't make it over to Berlin or central Germany and time soon, how about that bottle of Riesling from Rheinhessen or the lovely Spätburgunder from the Mosel region as a placeholder in the meantime? They just might inspire your wine tourism plans in the future.