©Favoreat / M. Anglada
The 34-year-old's attitude to work is no coincidence, after all she stems from a line of strong entrepreneurial women, most significantly her grandmother Ginette Dufour. Ginette was working on the vineyard with her husband. When he unexpectedly passed, she was left to raise her two children by herself while taking care of the vineyard, a novelty for women back in the day. But it doesn't stop there. At the time, winemakers mostly focused on the production of the product, while the trade thereof was left to thirds. Ginette however, wanted to change all that and have a more proactive role in selling her wine. Eventually she loaded hundreds of bottles onto her van and went out into the towns and villages to sell the wine first-hand to customers at markets and beaches. This direct consumer contact allowed her to retrieve personalized feedback on the taste and quality of her product, allowing her to alter and improve it accordingly over the years.
Ginette is remembered for her strong personality and her profound impact on Château Simon as well as the people who run it today. We were impressed with the reputation of this award-winning vineyard and the work of Pauline Dufour, so wanted to know what a typical day in the life of this working mom looks like.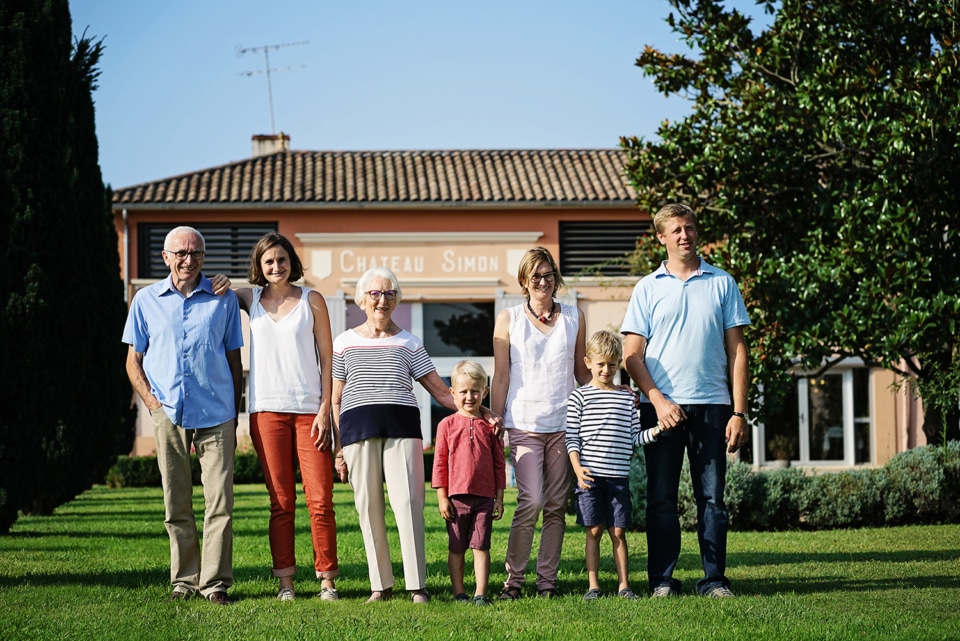 ©Favoreat / M. Anglada
6am
The day starts early for Pauline, who typically wakes up slightly before her son in order to have a brief moment to herself, enjoying a cup of coffee and a quick breakfast in silence before her day gets going. Once the baby wakes, she feeds him and gets him ready for daycare.
8am
Her work day begins. Unlike the rest of her family Pauline lives outside the Château and comes in by car every day. Once through the door she heads straight to the office and takes care of the administrative side of her job. This is when she sits at her laptop and responds to emails, prepares orders or speaks to clients on the phone.
11am
A group of tourists comes in unannounced for a tour and Pauline drops everything to show them around. She is passionate about her business and happy to share that with visitors. During the tour of the vineyard and the cellar which is typically followed by a wine tasting, Pauline patiently explains how the wine is made, proudly shows off her nearly 100-year old vines and expects nothing in return – the tours are free of charge. It's important to her to make all guests feel at home, and she cannot imagine hiring an outsider to run these tours, because family is the key ingredient to her business identity, a vibe that easily comes across and that visitors value.
Just like in the legacy started by her grandmother, Château Simon likes to sell the majority of their wine directly to the customers, they have little interest in seeing their product on supermarket shelves across the country. To her it's about more than just wine, it's about tradition, soul and authenticity.
1pm
The visitors have left and Pauline is meeting her sister Anne-Laure for a simple lunch at the Château. It's a business meeting because they need to discuss problems and issues around the vineyard, upcoming events and everything in between. Anne-Laure works on the fields with a team and is head of production while Pauline manages the cellar and sales on her own. Their roles at the vineyard are clearly defined and yet there are those days when everyone does everything. Sometimes they don't run into each other the entire day, so scheduled meetings are crucial to put each other up to date of current affairs.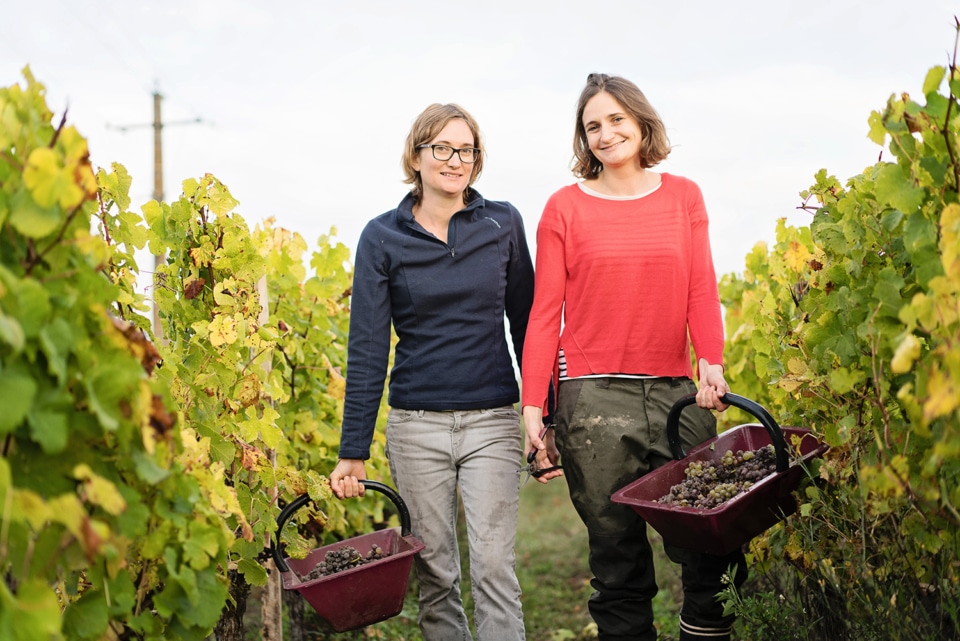 ©Favoreat / M. Anglada
2pm
The sisters both go into the wine cellar to prepare it for the bottling. This means filtering the wine, testing it and then establishing the correct measurements for the perfect blend. Every other week the oenologist comes in and helps with this complicated and lengthy process.
Working in the cellar might be the tail end of the production but it is really here where utmost care and accuracy is required to create the best wine possible.
5 pm
It's time for Pauline to pick up her son from daycare but her day is far from over. With the baby in the carrier she heads to Sauternes Syndicate for an important business meeting for all winegrowers in the area. Together they discuss planned promotions for the appellation, new regulations and all other issues that need addressing.
7 – 7.30
At last Pauline comes home. She feeds the baby and puts him down to sleep. This is when her first chance at some quality time for herself begins and often ends with simply eating dinner and reading a few pages of a book. But Pauline does not complain, she loves what she does. And just like her grandmother she will continue to wake up every morning and pour all her heart and strength into her business and the wine people love.