1. They're both right on trend.
In 2017 Lonely Planet ranked Bordeaux the best city for travelers to visit, pointing out its transformation over recent years from a somewhat sleepy yet beautiful town, to an innovative and happening metropolis. Not to mention its special appeal to all lovers of a good glass of wine. Meanwhile, Berlin has been booming these past 15 years. It's one of those places everyone seems to be talking about and was recently listed as the best city for millennials to live in. If you love art, history and nightlife all rolled into one – Berlin is the place for you.
2. A paradise for Foodies 
Wine isn't the only top priority for people in Bordeaux; food is right up there with it. There is a thriving restaurant scene ranging from Michelin Star fine dining to traditional gastrobars, and of course the many wine bars showcasing regional tapas and small dishes. But, it wasn't always like this. What is now a dynamic food scene was once a gloomy place for restaurant goers, another common trait with Berlin which has a similar story to tell. After the wall came down in the late 80s, Berlin initially was slow to pick up the pieces and develop a restaurant scene worth leaving the house for. However, with the growth of the start-up scene and a handful of good restaurants setting the right example, the culinary scene eventually exploded. Today it's fair to say that food is one of the main draws of the German capital. Top it off with Berlin Food Week, street food markets, and countless innovative restaurant concepts, making it a food lover's ultimate hotspot.

© Favoreat/Katja Hentschel
3. Endless Green spaces 
Bordeaux and Berlin have absolutely no shortage of parks, riverbanks and places to allow for escaping the bustling city life. With over 80 parks in Berlin, well-designed outdoor spaces give residents a perfect excuse to grab that bottle of chilled wine and a blanket and find a nice spot for the afternoon. In Bordeaux, head to Jardin Public or Parc Bordelais to get your daily dose of relaxation and new energy, or take your pick from the many other green spaces that are perfectly suited to host a picnic.

©Favoreat / M. Anglada
4. Culture for days
Being bored in either of those cities simply is not an option with a wealth of museums, galleries and events happening each and every day. Bordeaux stuns visitors with impressive theaters, churches, and buildings while Berlin likes to push the envelope of the art world, leaving plenty of room for discovery and interpretation. The two cities approach culture from opposite angles, but they both excel at it in their own right.

© Favoreat/Katja Hentschel
5. Rich in History
Did you know that aside from Paris, Bordeaux is home to the most preserved historical buildings in the world? A simple stroll around the city center can transport you back to the 18th century, an era referred to as the city's golden age. History in Berlin is less prominent in its architecture, since much of the city was bombed during the second world war. However, the remains of the Berlin Wall make an impressive testimony of Berlin's unique destiny of being a split capitol for 28 years. Since unification in 1989 Berlin has come a long way in joining the world's major metropolis and has become a vibrant seeding ground for innovation and growth.
6. A hub for socializing
The one thing Berlin is most famous for is nightlife, a term that is in fact misleading. While Berlin has its share of 24-hour clubs, life constantly happens outside of the home in bars, cafes, clubs and the many parks. People in Bordeaux love meeting up in groups of friends to enjoy a meal together, a glass of wine or simply a good moment among peers. Both cities are vibrant with life and the feeling of community is infectious.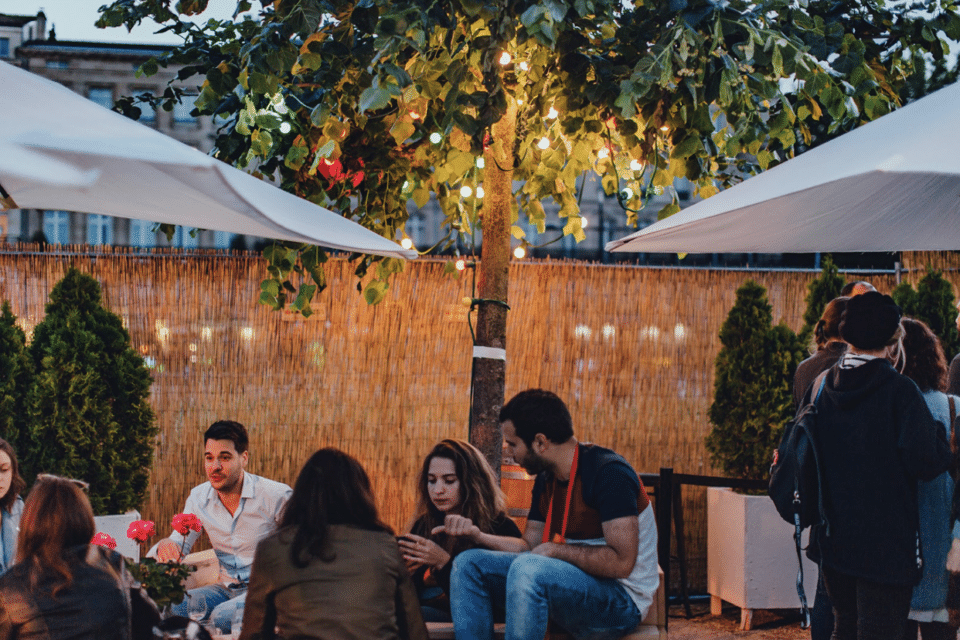 © Favoreat/Katja Hentschel
7. Adventure awaits!
Where in Berlin or Bordeaux, you're definitely in the right place to have an adventure. How about joining a wine bar-hopping tour in Bordeaux introducing you to some of the best wines? Or a free tango class by the Spree river, where every summer evening, crowds gather to drink wine and dance together? Alas, just walking around the city and allowing yourself to get lost in the streets and explore is worth it. Whatever you might find will usually surprise you.
8. Living by the river 
The many canals and the river Spree in Berlin, as well as the Garonne in Bordeaux invite inhabitants to come out and enjoy a glass of wine on the riverbank as the sun sets late in the evening. Many locals go even further and explore the canals with boats which they own or rent. Both cities also offer a wonderful wine tasting river cruise experience which receives rave reviews.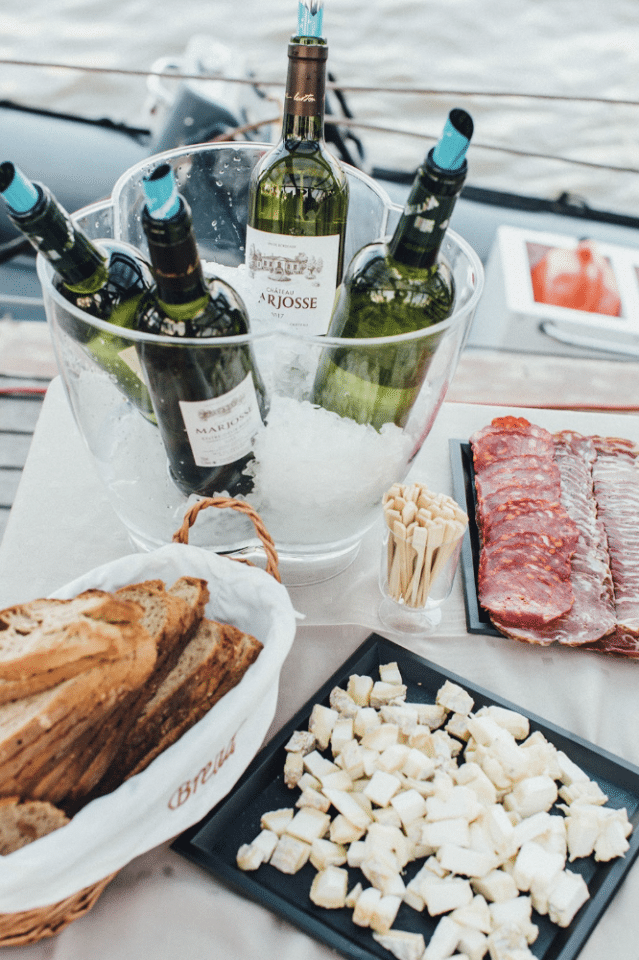 © Favoreat/Katja Hentschel
9. Amazing day trips waiting to happen
Needless to say that both cities offer enough things to see and do to keep your busy for weeks without ever needing to venture any further. Berlin occupies a fairly central spot in Germany and trips to other big German cities like Hamburg or Leipzig are within arms reach. Nature lovers will feel inclined to spend their time at some of the many lakes with Wannsee, Wandlitzsee and Liebnitzsee being definite favorites. What cities and lakes are for Berlin, in Bordeaux are regions like the Médoc and Saint Emilion for the ultimate wine lover experience, and the Bar of Arcachon for those who love beaches and the ocean. How do you feel about picnicking in the vines for lunch and then catching a sunset overlooking the Atlantic during dinner?

©Favoreat / M. Anglada
10. Find vineyards just a stone's throw away
Of course you already know that the city of Bordeaux is the ultimate center for the popular wine region surrounding it. To visit a few vineyards should be mandatory on anyone's itinerary when visiting this part of France. In Germany Frankfurt is not only a major transport hub, it's also surrounded by three major wine growing regions. The ultimate destination for wine lovers with plenty of variety to see and explore!