17 May 2022
Past Festivals 2022
This is a list of all the past festivals of 2022 that Clink Different has been part of.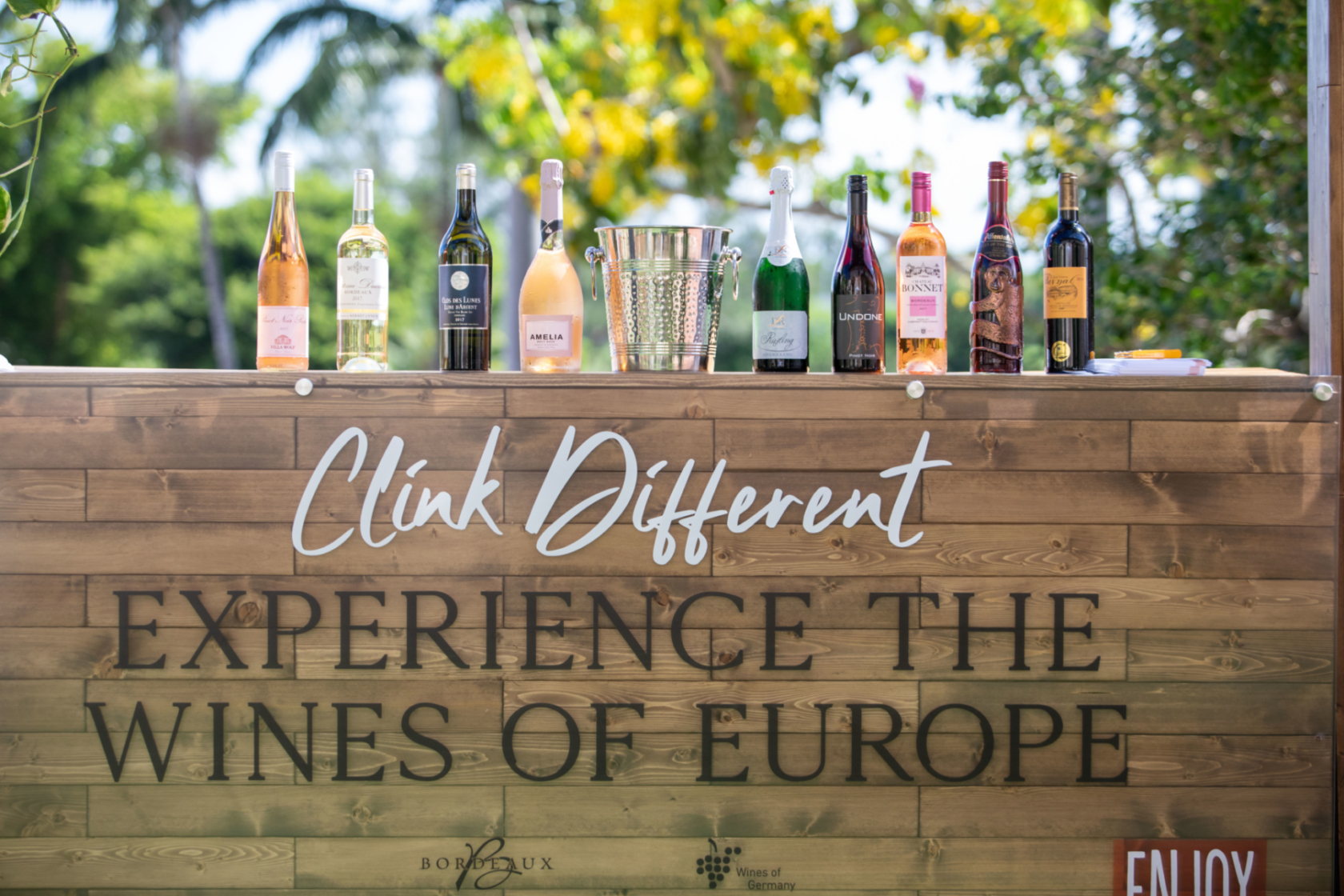 Cochon 555, Heritage Fire | Atlanta Georgia
Date: April 24th, 2022
Time: VIP 4pm | GA 4:45pm
Venue: Guardian Works, 755 Echo St NW, Atlanta, GA 30318
Presented by Cochon555, Heritage Fire is a premiere, whole-animal, nationwide food and wine tour celebrating heritage breed livestock and heirloom produce. The daytime feast offers an endless array of sustainably sourced food from the region's top family farms and local purveyors, prepared by some of the region's best chefs. The Heritage Fire Tour is comprised of an array of live expressions and cultivates a long-term impact for heritage species.
SunFest | Downtown West Palm Beach
Date: April 28 - May 1, 2022
Time: Starting 1pm
Venue: 100 S. Clematis Street, West Palm Beach, FL
Founded in 1982, SunFest is Florida's largest waterfront music and art festival. Held annually in downtown West Palm Beach, Florida the first week in May, SunFest attracts more than 100,000 visitors. The festival and the patrons have a positive impact on the local economy.
Spoleto Arts Festival | Charleston, SC
Date: June 4, 2022
Time: Starting 11am
Venue: 14 George Street, Charleston, SC 29401-1524. For all festival venues, click

here

.
Spoleto Festival USA was founded in 1977 by Pulitzer Prize-winning composer Gian Carlo Menotti, who sought to create an American counterpart to the annual Festival of Two Worlds in Spoleto, Italy, that he founded in 1958. Looking for a city that would provide the charm of Spoleto as well as its wealth of theaters, churches and other performances spaces, Menotti selected Charleston as the ideal location.
Waterfront Blues Festival | Portland, OR
Date: July 1-4, 2022
Time: 11 am – 10:30 pm
Venue: Tom McCall Waterfront Park, with the Main Festival entry located at 1400 SW Naito Parkway, Portland, OR 97201.

 

The Waterfront Blues Festival is downtown Portland's largest and longest-running music festival and one of the most renowned celebrations of the Blues in the world. 2022 marks the 35th anniversary of the festival and a jubilant return to downtown Portland. Founded in 1988, the festival has welcomed over 2,000 acts including Gregg Allman, Buddy Guy, Lucinda Williams, Gary Clark Jr., Robert Plant, Mavis Staples and Trombone Shorty, garnering international acclaim and raising over $10 million dollars to fight hunger.
Heritage Napa Valley | St Helena, CA
Date: August 21st, 2022
Time: VIP 4pm | GA 4:45pm
Venue: Charles Krug Winery, 2800 Main St, St Helena, CA 94574
We invite you to join us at Charles Krug Winery for a delicious afternoon filled with Napa's finest flavors, top chefs and most memorable brands at this one-of-a-kind, indulgent, all-inclusive tasting experience.
Euphoria Festival:
Date: September 17-18, 2022 (

Saturday

: Tasting Tents 12pm

Sunday

: Tasting Tents 11am

Time: Starting 11am
Venue: Downtown Greenville, SC.
More than just the quaint southern host city of euphoria, Greenville has slowly established itself as an important part of the culinary world and is filled with experiences for all types of travelers. Between tastings and wine pairings, be sure to explore all that Greenville has to offer.
Atlanta Food & Wine Festival:
Date: September 17-18, 2022

Saturday

: Tasting Tents 1-5pm (VIP Hour 1-2pm)

Sunday

: Tasting Tents 1-5pm (VIP Hour 1-2pm)

Venue: Historic Fourth Ward Park. 680 Dallas St NE, Atlanta, GA 30308 (Tasting tents)
EAT, DRINK AND EXPLORE THE SOUTH AT OUR TASTING TENTS!
This fall, we invite you to embark on a delicious journey through the South's finest flavors, up-and-coming destinations and most memorable brands at our indulgent, all-inclusive Tasting Tents at Historic Fourth Ward Park.


Heritage Fire Tour LA
Date: October 2nd, 2022
Time: TBD
Venue: TBD
TICKETS ARE ALL-INCLUSIVE OF FOOD AND FREE-FLOWING BEVERAGES. Tickets include unlimited food, beer, wine and cocktails, and all day entertainment.
Please note attendance at this event is limited to persons aged 21 or older. Photo I.D. showing age is required.
Lake Las Vegas Golf Classic
Date: October 8, 2022
Time: Starting 5.30pm
Venue: Reflection Bay Golf Club, 75 Montelago Blvd, Henderson, NV 89011
Get ready to enter a culinary and beverage heaven. Once inside your ticket gets you unlimited food and beverage throughout the evening. Sample amazing cuisine made onsite from up to 16 of the finest local and regional chefs/restaurants as you wander from booth to booth. In addition to the culinary delights, guests can enjoy up to 10 wineries, breweries and try unique cocktails from the spirits tent. The culinary expertise of our chefs will continually surprise your taste buds from one tent to the next
Las Vegas Food & Wine
Date: October 8-9, 2022
Time: starting 8pm
Venue: Tivoli Village, 400 S Rampart Blvd, Las Vegas, NV 89145
Make your escape at Tivoli Village and join us for one of our most salacious events. The Las Vegas Food & Wine Festival, with extravagance at your fingertips. Set against the famous backdrop of this truly inspired resort.
Taste of Laguna Beach
Date: October 13, 2022
Time: starting 6pm (General admission) | 5pm (VIP)
Venue: FESTIVAL OF ARTS GROUNDS, 650 Laguna Canyon Rd, Laguna Beach, CA 92651

  The Taste of Laguna Food & Music Festival combines two awesome events, food tasting festival and a rockin' concert into one mega evening for foodies and live music fans! This limited event will sell out, so get your tickets now and join us October 13, 2022 at The Festival of Arts Laguna Beach.
More than 30 local restaurants and award-winning chefs will showcase their most popular menu items, signature recipes, and specialty dishes. The festival stage will feature a unique concert.. stay tuned for this year's lineup! Whether you come early or stay late, this year's party is going to rock more than ever before!
Uncorked Wine Festival
Date: October 15, 2022
Time: TBD
Venue: TBD
Uncorked Wine Festivals are the complete experience for wine lovers. These events bring together beautiful venues, music, gourmet food trucks and, of course, lots of wine. Whether you are an avid wine aficionado or someone who enjoys a glass from time to time, there's something for every attendee to enjoy. For specific event info and wine lists click on a city near you. Cheers!


Watch some Festivals highlights here.
Read also...